Surfing 2017
6th – 8th October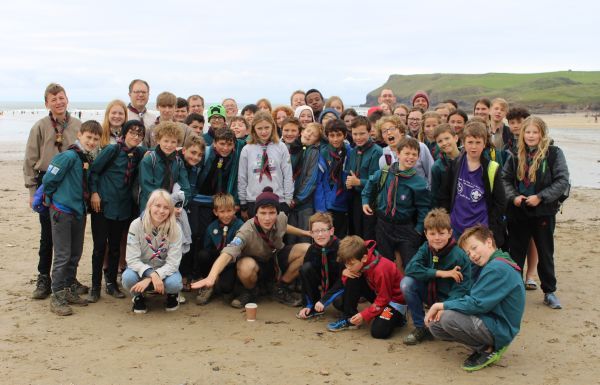 A genuinely cold and miserable Saturday did nothing to encourage Scouts into the water, getting into wetsuits prior to this was an even greater challenge! Sunday morning was gloriously sunny and a whole lot warmer, thankfully! 
It was our biggest surf trip ever, with 58 people heading Polzeath-wards. So much so that Surfs Up very nearly (but not quite) ran out of boards. It was just Harry that had a stupidly big one, still it gave him something to moan about… Surfs Up Surf School were again excellent, looking after so many of us and getting us surfing was fully achieved!
What must be our quickest journey down on the Friday night was followed up by tasty burgers. The brilliant Nines Ashes was again our base, with very helpful wardens thrown in! Toby had provided 2 compilation cd's to entertain our every turn and brake, each bus had their favourites but cd 2 is being taken as the best, by a whisker. Exeter was our first stop – it is here we would like to apologise to all those lovely people at the services who wanted a peaceful relaxing stop and a meal until we invaded, whoops.
Saturday morning was wet and horrible, so before surf we packed lunch, getting distracted with a little lunchtime conga, and trundled off to the  Porteath Bee Centre. The nice lady was quite shocked with 4 minibuses and 58 people taking over a very small place, still, we saw some bees. 
Sunday, after surf time was investiture time. Our favourite place to invest. 8 in total from Wednesday and Friday. 
Back at Nine Ashes, we just about squeezed in. Saturday night was party night, with this year being a space theme. The best, most lovingly-made spacesuit put every other costume ever made to shame! Well done James! Way better than a painting suit with NASA scrawled on it or just being wrapped in tin foil… Galaxy Quest was the film of the night, wonderfully stupid and quoted all the way back on the M5, sigh. 
In between all this fun, mundane duties were required. The Scouts dived in superbly, no they really did. Joe drowned under a lake of grated cheese, as did Zach and Fletcher with an exceedingly wet washing up session. The leaders came of worse as usual.
Raffle time! Lots of prizes were being won, from cleaning toilets, to campsite badges and Willy Wonka Toby's bag of chocolately magic! Unlucky number 13 strangely proved very lucky indeed! How on earth could that have happened!?
Silly parking on Polzeath beach Sunday morning nearly killed a 6pm finish back in Bristol. It could have been a whole lot later had one of the leaders not had several arguments with crazy parkers. Of course, it's all our fault for getting blocked in!!!
Cleaning the buses was a slick efficient mission, clogging up one leaders road to three quarters of an hour! Most leaders settled down to pizza and tea at about half 8. 
Thank you to all the Scouts, there were a lot of you, and whilst things took longer everything ran smoothly and enjoyably.