London 2012 – The Olympic Camp!
 

  

 Tuesday 31st July

until

Tuesday 7th August

2012

 

 

We had a Herculean programme

planned for London 2012,

staying

at a Scout campsite

in London we tasted the biggest 

sporting event

in the world.

 
"Who is going to be interested in going to see Outer Mongolia see obscure Algeria playing some random sport at half past 8 in the morning, after a 6am start, only a dry croissant for breakfast and having been squashed to sardines on a hot sweaty Underground, Overground and DLR!?"
34 Scouts from 62nd of course…
The reality was everything of the above, but the excitement was obvious and as you got closer to that venue it increased tenfold. Our pink t-shirts were spotted instantly and by the end of the week everywhere we went – the venues, underground trains, we were recognised: by the army, LOCOG stewards, police, in fact everyone around. The highlight being a LOCOG steward sitting in a high chair with his loud hailer outside Excel, spotting us before we spotted him, getting the crowd to give the Scouts from Bristol a cheer and then proceeded with banter querying how we got so many tickets in front of bemused thousands waiting patiently to get inside for their sports. We also received so many queries for where our t-shirts came from that we could have paid for the entire trip ten times over with the proceeds.
Scouts notched up dozens of high fives, plenty of compliments and an interview with Japanese and Georgia television. Once inside the venues the volleyball cameras picked us up fairly quickly, with the commentator positioning himself so we were right behind. Daisy's luminous banners providing the clearest announcement ever that we'd arrived. Sadly, our Bristol banner failed to be spotted by Bristolian archer Laurence Godfrey; however, archers from other countries were more than happy to be photographed in their moment of glory. Another highlight was when one group managed to spot and photograph Greg Rutherford, newly crowned Olympic long jump champion.
Absolute highlights of the week were many and vast; all the Scouts had been to different events and experienced different elements of the Olympic drama. All Great Britain's efforts were enthusiastically supported, arenas ramping up the volume whenever anyone British dared to come close, even British referees got big cheers. For some, Gemma Gibbons in the Judo competition was an absolute highlight, we witnessed her first 3 rounds, including the quarter final; she eventually went on to win silver.
For others:
Seeing Jessica Ennis, Mo Farrah and Greg Rutherford win Gold in the TV tent
Watching the medal ceremony during Wrestling
Beach Volleyball! ("I've been hyped up to the max!")
Being in the Olympic Stadium and the atmosphere
Just 'being' at the Olympics
The Mexican wave
The final Team GB discus throw at the end of the athletics session
Going with a fab scout troop who are like family!
… 
Our gieger counter of Olympo-mania really has gone zoink…
So… anyone for Rio!?
" …What can I say – *** has had the MOST AMAZING CAMP EVER – he talked nonstop about it for two hours then crashed asleep – I can't thank you guys enough for all the organisation, coordination and thought you put into this chance of a life time trip. You must be exhausted but BIGGEST THANKS EVER TO YOU ALL – cant wait for the photos –      Thank you again!"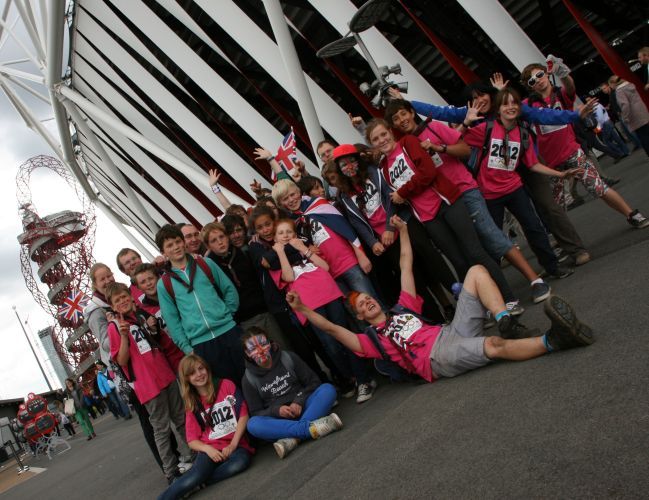 Earlier news:

Monday 6th June 2011

Wow! What an event!

The queue started just before 5:30pm, homemade chocolate brownies were passed round and people enjoyed a glorious evening in a front garden in Horfield!

The door opened at exactly 6pm and the orderly queue filed forwards and handed in thier booking forms.

19 to be precise. So everyone so far has a place on our trip to London 2012.

Thank you everyone for making it an entertaining evening!

 

 

 

 

 

 

 

The Olympic events we visited are:

 

Volleyball

(Womens: Dom Rep vs Japan and Russia vs Algeria)

Judo

(Mens & womens quarter finals: including Team GB Gemma Gibbons who went onto win Silver)

Hockey

(Mens prelim)

Athletics

(Mens 800m rd1; Mens discus qual; Womens 100m hurdles rd1; Womens 1500m rd1; Womens shot putt qual)

Boxing

(Mens)

Water Polo

(Womens quarter finals)

Wrestling (Greco Roman)

(Bronze, Silver & Gold medal contests)

Archery

(Womens ind; Mens ind: including from Bristol Laurence Godfrey)

Basketball

(Womens prelim)

Beach Volleyball

(Mens & womens)

 

…and we also went to BT London Live in Hyde Park

    

 

Truly once in a lifetime opportunity to see the world's best on your own doorstep!!

 

62nd Olympians:

 

Eloise W

Isobel W

Molly D

Shauna D

Joe B

Harry A

Max N

Ben D

Dylan M

Toby M

Adam W

Jack G

Freya M

Chris T

David T

Rachel H

Charlotte K

Thomas L

Jack O

George K

James K

Katie G

Clive

Dave

Mike

Nathalie

Nick

Dan

Rachel

Daisy

 

Alexis

Rosie

 

Jessica

Thomas